Using Alibaba To Make Money Online and supercharge your money making online skills.
Do you have an online business, selling or buying items? Do you want to diversify your supply of components and source from the world's factory? Well, look no further than Alibaba. 
What is Alibaba?
Alibaba is like eBay on steroids. 
Actually, by the numbers, Alibaba is bigger than Amazon and eBay COMBINED! 
And it makes sense; the reason being is that the majority of items that are sold on e-commerce platforms come from Alibaba in their first instance. It should be your go-to place if you want to make it online too! 
It connects sellers of items on such platforms as Amazon with manufacturers and wholesale contacts in China. If China is the factory of the world, then Alibaba is the factory outlet in the world. 
Literally, hundreds of thousands of contacts are at your fingertips on this system.
How to begin on Alibaba and how to Make Money
Alibaba is great; it's intuitive, and best of all, it's effortless to get in touch with suppliers. 
You can browse by category or by the product you actually want to search for. Or get all crazy and search for the photo of the item you want to search for. It could not get any easier. 

What to look out for and how to find the right product for you
When you find a similar product or the exact product that you want, there are a few things that you want to look for. Indeed Alibaba has improved their service considerably, and they continue to do so. 
If your Alibaba screen looks different to this then it may be a new feature, or specialist to your search area.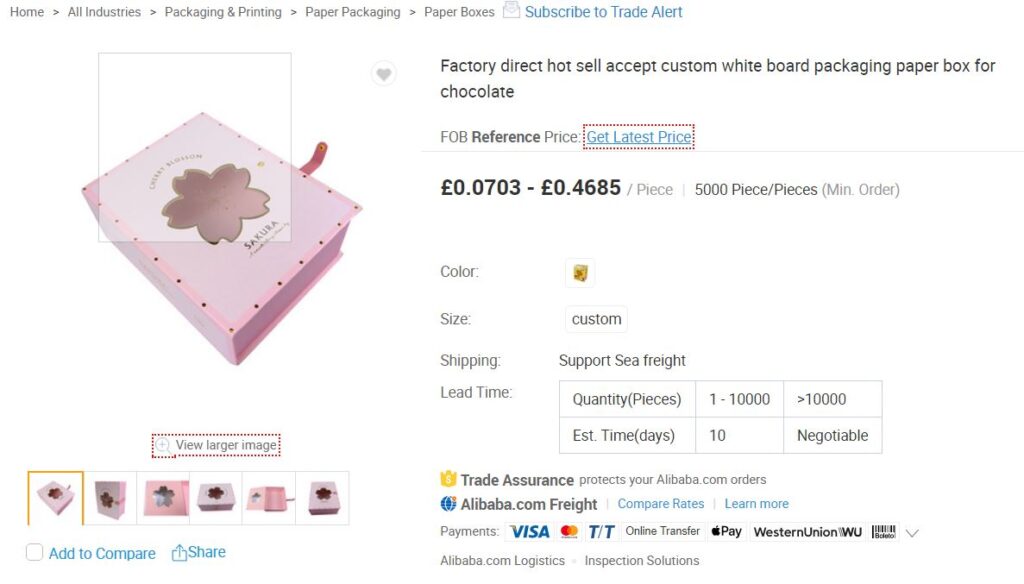 Description of items on Alibaba
This is the first item that draws your attention. Now one small nuance in Chinese e-commerce is noticed here.
If you read the title:
Factory direct hot sell accept custom white board packaging paper box for chocolate
A strange title you have to agree. There is a reason for this. In Chinese e-commerce, they concentrate on keyword searches. So the titles of the products will be full of searchable keywords. Rather than stating, 'Custom chocolate packaging' You get the above.
It's these subtle nuances that allow you to find the real deals on Alibaba.
Unit Price
In the above example, you see that the unit price is (at the lower end) 0.0703 piece cost to £0.4685 at the upper end. Based upon MOQ and FOB. MOQ stands for minimum order quantity, and FOB stands for free on board.
For a full description of shipping terms, we wrote an easy to understand shipping terms on a blog post here.
The unit price may or may not be the real number. It all depends upon the supplier, their terms and the order you place. This, above all else, depends upon the MOQ.
What is an MOQ?
Ahhh the old MOQ, this is our biggest sticking point. You would think that its the price that comes under discussion on the negation table. But actually, it's the MOQ. This is the smallest order that the manufacturer is willing to accept- Minimum order quantity.
But.. And its a big but, this is ALWAYS negotiable.
Using the above example of a simple box, the MOQ is listed as 5000. And the price ranges also vary meaning your order can go from a potential of £351.50 to £2,342.50 for the MOQ quantity/ price.
That's a range of £2,000 All depending upon your ability to negotiate the correct MOQ vs price.
Colour and Size
This pretty much speaks for itself. Here you want to ensure that you understand the size and colour. You would think the obvious reason is to ensure that its to make sure it's correct… Well, yes, of course. You want to double-check the size and colour; no doubt.
But you want to cross-reference the sizes and colours against the MOQ too. There may be some unwanted surprises if you are ordering different colours and styles of items when the supplier comes back and requests more money that you have not budgeted for, simply because you didn't understand the style and colour against the MOQ.
Lead times
Think of Alibaba screen as more of a guideline. Don't take the information here to heart if the lead time states here that its 10 days to get a custom box made. Think to yourself, well, if I need some tooling for this box, and they don't have the colour. And the order of tooling is going to take 30 days. It cannot take 10 days to produce.
Take the lead times referenced here with a pinch of salt. They are more of a guideline.
If you want to dive deeply into lead times, ask your supplier for a breakdown of the timeline of each step. Construct your project management Gantt chart to see what the real timescale will be.
Payments
Alibaba has improved so so much through the years at reducing the western consumer's concerns around payments. Its become a lot safer to transfer your money over to suppliers. Its become a lot easier, but not risk-free.
Let's look at some of the options that are currently available. And the ones I would advise using:
T/T- Bank transfer:
This is a risky option for obvious reasons. You are transferring money, blind almost, to an unknown person/ persons on (potentially) the other side of the planet. Use this option as a last resort, and only when you trust the receiver and have inspected or vetted the facility.
Usually, with a bank transfer, the supplier or manufacturer receives the money in full before production starts.
You get very little support from the supplier if things go wrong in production.
It's almost impossible to get your money back in the event of a factory closure.
Letter of credit
A letter of credit is fundamentally a letter from your bank stating that you are good for the funds, the funds are not transferred immediately, and they are held.
This is a fairly safe way to get money to your supplier.
However, because it is quite a tedious endeavour explaining to the bank what it's for etc. The advice is usually only in the event of a high-value order.
Western Union
Western Union, in my opinion, has a bad reputation for the wrong reasons.
There have been a few times where it has gotten me out of a pickle in situations.
However, it holds the highest risk of all the payment options contained in this list. It is for that reason I advise that only use Western Union when, not only do you know the person you are transferring it to, but you trust them too.
There is NO, let me repeat that, NO way of getting money back in the event of something happening.
Paypal
Paypal is good, its safe, easy to use and really user friendly when something goes wrong.
And for that exact reason, suppliers do not like accepting it as a payment method.
Many suppliers will tell you horror stories where the money has been returned to the buyer, meaning that they are less likely to want to use this as a payment method.
Additionally, the tax implications on the supplier are also convoluted.
You will struggle to find a supplier who likes accepting PayPal or won't charge you for the use of it.
Escrow
This is a pretty safe option for both suppliers and buyers.
Escrow is where a 3rd party holds the funds; they only release the funds when the items are delivered to the buyer.
It's safe because it protects both the buyer and the seller from scams (with the caveat that you should trust the Escrow agent).
Funds could also be released from Escrow when an inspection of stock has been conducted, and the buyer is happy with the quality level of the stock.
If you are embarking upon your Alibaba/ China sourcing journey, then Paypal or Alibaba's Escrow service is probably the best and safest bet. Remember with payments, if something seems too good to be true, it probably is. Do your due diligence, and if something doesn't feel right, there will always be a next time.
What about the bad bits though?
Of course, using an online purchasing service is never risk-free. Nothing that you are going to embark on is going to be safe. Purchasing and manufacturing your products or even buying off the shelf stock from China is never going to be a walk in the park.
But the rewards can be tremendous.
But what are some of the risks that you should be aware of?
On Alibaba, you get 2 types of people you want to avoid:
Middlemen 
China is one big factory, Alibaba is the shopfront, inevitably you will always get people trying to act as an intermediatory, unnecessarily: These are the middle-men.
These guys will intercept everything you do, and although may help you along the way, they will put a smokescreen between you and your manufacturer, they will hold all the power and be able to charge what they want to you. 
Visiting the factory is always the starting point that I would recommend. It allows you to cut through the salesman talk and get straight to the point. You can do this in person, or have an independent team do this for you. I would advise the independent team, for a few hundred dollars/ pounds you can have peace of mind and a full report for your records. 
You don't need to have someone there on the ground all the time. But to ensure that you have the best deal possible then you want to cut straight through and deal directly with the factory itself.
The other group of people you want to avoid like the plague are:
Scammers
The bottom feeders I like to call them.
These guys are the worst, and these are the horror stories you hear about. 
Like anywhere in the world you will get people taking advantage of the people just starting. 
You need to be aware of these people, they do exist, they are out there, and only through due-diligence and cross-checking, you can weed them out.
Let's talk about… Quality
I could talk about quality for a while, and indeed we do discuss quality at length. When you find a supplier on Alibaba, there will always, always be a difference in what you (the buyer) and the supplier believe to be high, good, average and poor quality. There always will, because this assessment is subjective. Not objective. 
Do not underestimate quality understanding. If you are trying to build a brand, or even supply Amazon FBA products, then the quality has to be at the forefront of your supplier discussions.
How do you protect yourself from the above negatives when sourcing from Alibaba?
There is no one silver bullet. It's about due diligence, experience and (unfortunate if travel is impacted) being there on the ground. It's no secret that this process is fraught with danger. The biggest danger, in my opinion, is getting poor quality products in your customer's hands. That brand damage is almost impossible to come back from.
So how do you protect your interests?
Supplier Verification
Alibaba offers a verification service in their system. This service is perfectly adequate if you want to get an understanding of the supplier, and indeed the suppliers have a rating system that allows you to gain only Alibaba approved suppliers.
This service is adequate, but as with everything in quality, the 'quality', unless objectively assessed through a truly independent auditing service is just that; open to interpretation.
You can also verify your supplier in person; there should be no reason why any facility wouldn't let you visit. If there is any resistance to this, then this should be a red flag.
Use a 3rd party auditing service to verify your supplier. For the sake of a few hundred dollars, the risk is not worth it.
Get into the details.
Once you have sent out your RFQ (we will discuss this later)  and you are starting to narrow down your suppliers in detail. Start to ask detailed questions.
Is there a minimum order?
Minimum orders are important to know, as explained previously, but showing an interest in their details will allow you to ensure you understand what they have stated. 
Get into the detail with the MOQ.
Can you provide any previous customer testimonials?
It's always a good idea to discuss with other companies to gauge the service that the prospective supplier is advertising.
Do you have liability Insurance, ISO accreditation, export documentation and business licences?
In all honesty, the answer will be some confusion, and you will get sent something that may resemble an insurance document but:
The more documents and information that you can build up around the prospective supplier, the better. Not only for peace of mind but in the event of any conflict further down the line. 
Also ask if they have any other documentation that they can provide, business licence, export licence, ISO accreditation etc. The more, the better.
What payment terms are offered?
Different suppliers work on different terms; you need to understand who pays for what at what point in the process.
FOB is the most popular, but if its Ex Works and the company does not have an export licence, you can be held holding the baby; and the export bill.
Under what conditions may prices change?
It's important to have this written into any contractual agreement that you may make, but in the initial factory visits, it's a good question to ask.
MOQ's can also change, so its good to get something in writing when you have struck up a deal. Be very wary of suppliers who are not willing to sign into a contract.
When do I take ownership of the products?
Usually, factories use FOB, which means free on board. But ask, ask and ask again. You must understand when you will own the products. 
How do you handle communications with the customer?
It's always a good idea to get an understand of the roles and responsibilities of factory key team members. 
Ask for the project owners We Chat. See if they can speak in your language, or a language you can understand. 
If not, you want to be thinking about getting someone who can help you out translating and assisting.
If you don't have someone there on your side in the factory on a big order, things inevitably will go wrong. 
Don't be afraid of hiring a third party to be on your side in facility overseeing your production. These guys will be there for you, keeping you updated and best of all, keeping your mind at ease with your investment.
How long have you been in business?
Get a good understanding of the company that you are dealing with, including any background information. 
What other products do you offer?
Please have a look at the other items that they produce. See what the quality is like of the current stock of products.
See what they have in stock, see if they have any other items that you could capitalize upon.
Get samples
Gaining samples is imperative in your strive to problem-free manufacturing; we talked before about objective and subjective quality. Samples are the best way to categorise quality objectively. 
Ask questions about the samples too:
How is the sample I am receiving different from the production model?
This is important…. In all industries, different production techniques are used for the prototype samples. It's important to not only understand this but also understand what may differ from the samples to the production product.
Measure the samples, make sure things are aligned. 
Hold the supplier accountable for the sample in production.
Sample
Sign off the sample too- Ensure you agree upon the sample that production should adhere to. No manufacturer can work to the same measurement every single time. So agree upon a tolerance or variation of the critical areas and use real measurements to take them from the objective realm into the subjective assessment. 
The fun starts
So this is when the fun starts, you know what product you want, you know which questions you need to ask, you have a rough idea of quality and you know which suppliers you want to be contacting. 
Now is the time to produce your RFQ. 
RFQ what information should it hold?
An RFQ, or Request for Quotations, but is a process whereby you have an idea for a product (a new original idea or existing product), list down its specifications, material, size etc.… and provide the document to suppliers for them to respond with a quotation of piece price and lead time based upon the information provided in the document.
This (like anywhere) requires a certain amount of trust, and a fine balancing act (not giving too much of a good design away in an initial RFQ is imperative). An RFQ content depends very much upon the product being quoted for; it usually contains the specifications of the items/services to make sure all the suppliers are bidding on the same item/service. Logically, the more detailed the specifications, the more accurate the quote will be and comparable to the other suppliers, I would always recommend (if you are looking at sourcing original content) to have many RFQ's to determine if the supplier is capable of manufacturing the requested items. There is no point in sourcing clothing from a steel pipe supplier! 
The core items to include in your RFQ are: 
MOQ
Request a pricing structure for samples 
Production cost (and possibly a breakdown, including tooling costs)
If applicable; who owns the tooling
Lead time
Payment terms
Delivery terms
The suppliers must return the RFQ by a select date in usual circumstances. Its always a good idea to ensure a follow-up meeting is pencilled in to ensure the supplier has fully understood the RFQ and any particular nuances. 
How to construct an RFQ?
Writing an RFQ is not as daunting as it sounds. It is relatively easy and also allows you as the designer or sourcing contact to ask questions to yourself after reading the RFQ back. I always advise customers that imagine you were an alien, setting up a production line, what things would I need to know to understand the requirements accurately. 
Introduction and background 
Submission Requirements
Pricing Table 
Evaluation 
Further Information 
How to ensure your RFQ process is efficient as possible:
You want to make it easy as possible for suppliers to respond to the RFQ, so ensure that you have a clear and concise email address (I always advise customers to use email best practice). Ensure that if you are sending emails at a relevant time for the recipient to be able to respond. It's inconceivable to send emails on a Friday morning (in the West) for request that needs to be with you on a Monday, be considerate and ensure you know the time difference. 
Follow up
Follow up with emails ensuring that the supplier has received the email. Requesting to know if any further questions are surrounding the quotation. I would say more is better, but be careful of turning suppliers off by requesting too much in an unreasonable timescale. 
Negotiate
It may be that your prospective supplier has returned the RFQ to you with a price that you agree with, all within a reasonable time scale that suits your needs and at a shipping rate that you agree with.
In all my years of dealing with suppliers, this has happened in a few cases. Even then something has come up at a later stage. 
Negotiation is key.
There are some, actually ALOT, of nuances when it comes to dealing with Chinese suppliers. We have written about it here:
Dealing with Chinese Suppliers 
If I could put it into a nutshell, I would say be the most respectful person you can be, but be firm, and concise. A lot is going on in the Chinese suppliers' mind, and they want to get the most out of you possible. 
In conclusion
There are so many benefits to be had from sourcing from Alibaba. You will gain so much experience from sourcing. But do your homework, due-diligence, and you will be sure to get those profit margins that you have dreamed of. 
Top tips:
Don't be afraid to walk away from a deal.
If something is too good to be true, it is.
Don't be afraid to employ a 3rd party inspection service to assist, they have been there before and will help you out no matter the inconvenience.
Show respect, and you will find negotiations will get a lot easier. 
Never be afraid to ask all the questions
Using Alibaba To Make Money Online
Join our newsletter along with 300+ others and get tips on sourcing and inspections straight into your inbox here.