How to successfully map processes in Chinese Manufacturing. Let's discuss how we map a process, and how this can help you maintain quality and evaluate risks.
What is Process Mapping?
A process map is a tool used to map various processes in any manufacturing, office or, indeed ANY environment.  Process maps can be drawn for anything done anyplace, so; how to successfully map processes in Chinese manufacturing?
Process maps can be used to evaluate processes in a system to ensure they are working efficiently and correctly. They force the creators to enquire into the process and use answers to map out a robust visual representation of process flow.
Why is important?
When we conduct FMEA walkthroughs we want to ask ourself for each step several questions.
What can go wrong at each step?

What is the effect?

And how likely is this to occur?
If we didn't have every single step mapped out in detail then the ability to accurately progress through this list of questions methodically and accurately would be somewhat impossible without getting into a confusing loop.
A process map is beneficial as it takes a snapshot in time to show the team what is, or is not happening.
It will help you understand where in the process were to collect data, analyse further, or where bottlenecks are.
How to construct one?
Starting at your very first process, where the materials come in the door. We need to write down what the process is that is currently employed. At this point in the construction of the flow chart, if you are walking the line, don't try to swap, fix or change anything. Just note the system down as you see it.
Add in any loops feedback stages, sub-stages or questions you ask to ensure things are passed onto the next stage. As you can see from the example below, flow charts can be written about almost anything.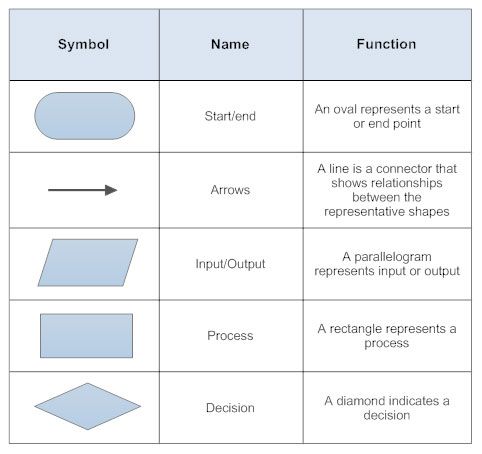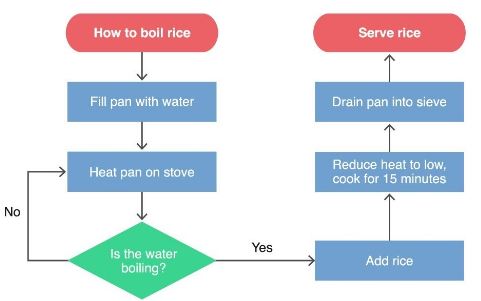 Once the flow charts start to develop you can start to see the path through the process. You can start to isolate the areas that can be improved, made more efficient, or removed totally. 
As flow charts can map any process, they lend themselves well to not only manufacturing environments but all environments. Say for example you have a process wherein an office a document needs multiple signatures signing off. If you have a flow chart it can show you exactly where in a step you need to concentrate efforts on. 
From Our Flow Charts Control Plans Develop:
Now we have our FMEA conducted from our process flow chart analysis, we can start to produce the controls to ensure that all processes can run with minimal intervention from management or external influence.
So what do these plans contain?
An  effective value stream that has been FMEA'd will have several checklists:
Standard work and authority

Control plans

Process Metric and KPI

Process owners

Value stream managers
Standard Work Authority
Each Process step and tasks should be outlined and streamlined in this document, this should be then made known:
Who does what where and how

Standard operating procedure

Visual Standards

How to do it
Control Plans
This document enables employees to be in control of the process, it gives accountability in the process. It's used as an organisational tool and can be presented as a checklist or table; used by the employees it monitors progress. It contains:
What should be measured
Which metrics should be used
Targets
How performance should be measured
Frequency of measurement
Process Metrics And KPI's:
These are established by management and are an agreement of data that you the customer want to see if you are dealing with factories that are working remotely. It's best to keep metrics and KPI's to a minimum. Yes, it's nice to have all the data all the time, but it can generate mass confusion.
The most important factor here though is: ALL METRICS OR KPI'S ARE TRACEABLE TO CTQ'S. Do not just throw a metric or a KPI into the mix for the sheer fun of it.
Process Owners:
Process owners are just that, they own the process and are accountable for it. This should cut across all areas of business function and they should be aligned to ensure that no issues fall off the table through the receiving and hand over of process. Process owners have the accountability to meet the targets.
Value Stream Managers:
These contacts manage the value stream, ensuring that metrics are collected and correct. They have to manage value stream rather than be a functional manager.
When And How Do We Suggest You Get Data From Your Chinese Factory?
It doesn't matter if the factory is in China, India, Brazil or the UK. If you map out your processes above, aligning the data you will have a comparable data set to reference and measure. The process if mapped correctly will show you each individual step and also allow you to see when where and how improvements are to be made.
This is all about how we ensure we make our clients facilities LEAN. It's also what we look at when we conduct Audits on facilities in China.
Reporting:
When we work with factories after sourcing a component we ensure that their reporting aligns with our targets and expectations of quality. We implement the above and drive quality into products by mapping process, capturing waste and conducting continuous improvements.
Deal With Quality, Not Just Quantity
The only 100% sure-fire way to ensure you are dealing with quality in Chinese factories is to have someone on the ground, on your side. Batting for your team. A team player who not only knows how to capture and report out but a player that can hold those suppliers to account in the event of quality issues.
Here at Merchsprout, we do just that, we offer you the ability to save time and money by doing the hard work for you. We offer several services that allow you to remotely oversee operations.
If you want to learn more about how we do what we do and the services we offer, have a look here.
Source Chinese Products Without Going China
If you want to just get in touch, we are a friendly bunch and honestly just like hearing from you. Contact us below, or leave a comment.
Dealing Remotely Is Very Much A Possibility, Have The Right Team Members On Your Side
Source Chinese Products Without Going to China is not only a possibility it's relatively easy when you have the right team on your side. We are the right team for Sourcing, Auditing and Quality control.