China's growth at the weakest for 30 years, but exports back at pre-virus level
China's Slowing Growth
China's economy is set for a 2.2% raise this year; the weakest growth in almost 30 years. Although China (some may say has) emerged from the coronavirus pandemic in better shape than many. The recovery has, however, been uneven.
Clothes, finished wood products and other areas of the manufacturing sector are yet to return to their full pre-pandemic levels. Potentially meaning that there are still deals to be had in manufacturing if you look closely enough.
Employment
Employment indexes are still showing a decline, month on month with the September sub-index at 49.6 in the official Purchasing Manager's Index (PMI) showing a decline from 49.4 a month previous. No one is out of the woods yet. This may be also effected in Octobers statement by the Mid Autumn festival.
This has lead policymakers to becoming accommodating to the private sector employment areas. Of which 85% of people in China are employed. Meaning that if you are manufacturing in China already the sudden closures of factories may be reduced.
good or bad?
But it's not all bad news, the export industry is ramping up, and returning to growth. Very strong growth indeed. In fact, the National Bureau of Statistics (NBS) of China stated that overall PMI growth had continued for a 7 month and sat at 51.5, rising from Augusts 51.0 figure; beating analysts predictions.
The driver for this growth was overseas demand, that demand and subsequent China growth at expansion rates not seen since 2011.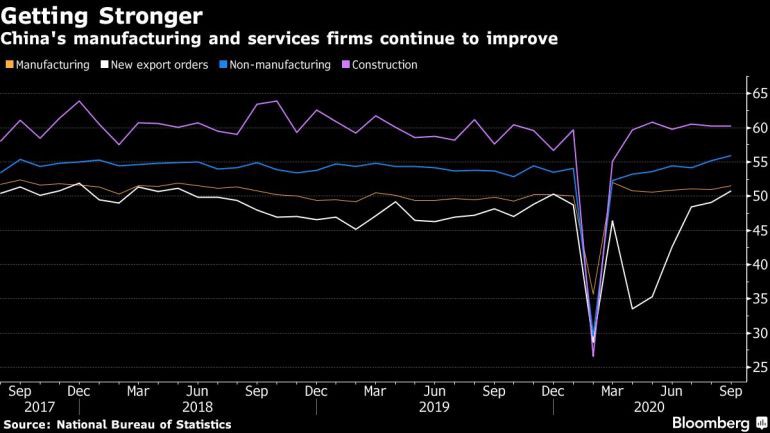 The export-driven recovery is shown in the PMI to, as a return to export growth is shown by a figure of 50.8, snapping back 8 months of contraction.
These are good green shoots of growth of a global recovery. Pent up demand has surely driven these changes and with Q4 export areas such as e-commerce showing no signs of slowing any time soon.
No one is out of danger yet, with western countries heading back into a state of lockdowns it's touch and go on a restart of global export trade.
Follow us on Linked In for daily updates here. And join over 200+ people on our mailing list to get China trade tips and tricks here